イギリス Matthew Thomasさん
Mt. Narawazu is an ideal place to visit for exercise and to escape the hustle and bustle of city life, and given that we have been staying at home or in the workplace for much of the past three years, most likely looking at screens and consuming media, perhaps the best reason for us to get out into 'the great outdoors' is to reestablish our connection with the natural world.
Citizens' Forest Mt. Narawazu opened in 1978 as a place for health, rest and recreation for local people and visitors. The wildlife protection area is an improved natural forest spanning 96 hectares of Mt. Narawazu, which stands at 375m above sea level and lies 20km south of Hachinohe City centre in Nango Oaza Shimamori. Although it is not a big mountain, what it lacks in physical stature it more than makes up for in the diversity of its animals, birds, insects, trees, plants, fungi, mosses, lichens and liverworts, and its ease of access from Hachinohe City.
Anyone, from the solitary walker to families with young children, can safely experience Aomori's wonderfully distinct seasonal variation while being fully immersed in nature on the forest's well maintained woodland trails. There are 15 walking paths on the mountain so you can choose a course suited to your level of fitness and the amount of time you have. By returning to the same trails many times, and from season to season, one can become grounded in the familiar natural landscape and feel the slow pace of the changing of the seasons.
One of the first signs of the arrival of spring at Mt. Narawazu is the gradual appearance of Michinoku fukujoso (Adonis multiflora), a yellow flower of the Buttercup family. After the monochromatic scenery of winter it is a joy to see these dainty yellow flowers with their exquisite green foliage emerging from the snow in early March.
Another splash of colour that can occasionally be spotted on the trail around this time is provided by Benichawantake (Scarlet elf cup). These early spring fungi have a white coloured underside and a rich vermillion red interior making them an absolute delight to spot hidden amid the snowy leaf litter along streams and in the damper areas of the woods.
With so few visitors to the mountain during the winter months usually timid animals can occasionally be seen. It was around the end of March that I encountered a Kamoshika (Japanese serow)on the road near the upper car park. About the same time I also saw two Nihonjika (Japanese deer), one ofwhich, startled by my presence, let out a sharp shrill before fleeing back to safety in the forest.
Spring-flowering flora include Katakuri (Dogtooth violet), which grow on exposed sunlit banks along the trails. Local foragers come to gather sansai (edible mountain plants), notably Fukinotou (Butterbur buds), Kogomi (Ostrich fern) and Taranome (Angelica). Yamazakura (mountain cherry) blossom in the forest during April, and after the formal opening of the mountain in May, deciduous broadleaf trees produce fresh green leaves until June.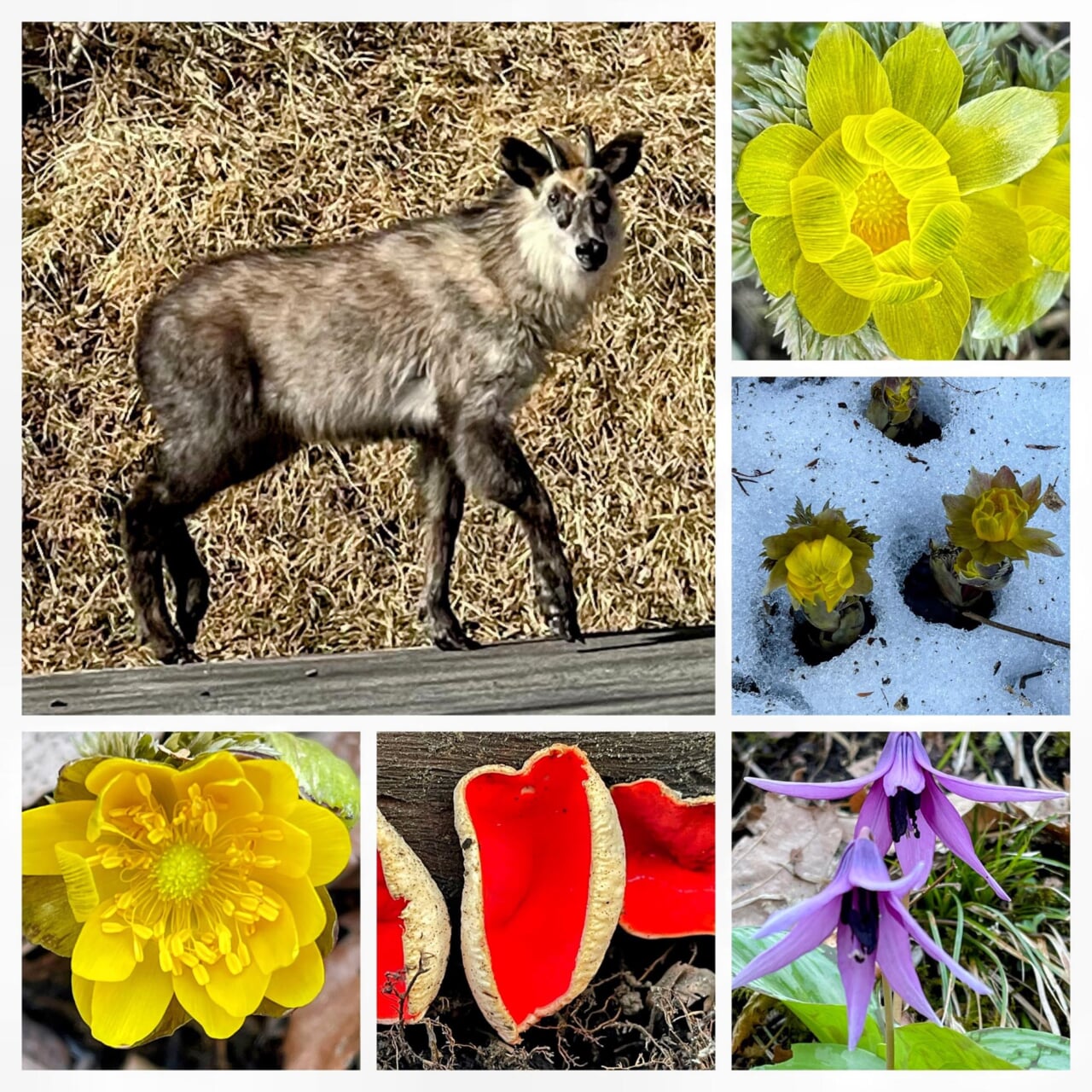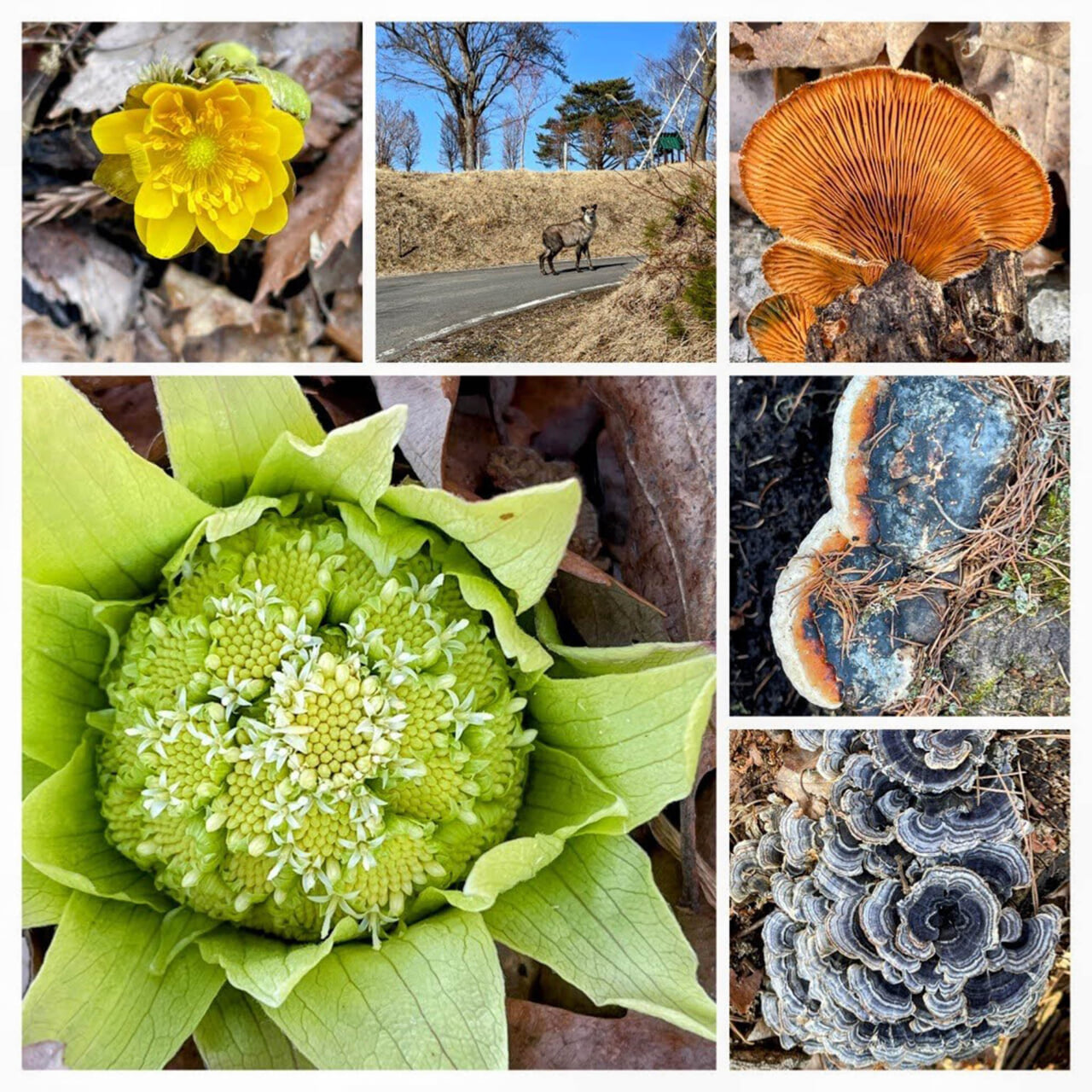 Birdsong is at its most vibrant in April/May. Resident bird species include Aogera (Japanese green woodpecker), Higara (Coal tit), Kakkou (Common cuckoo), Uso (Japanese bullfinch) and Kiji (Pheasant). Summer migrant birds also visit. Birdsong and various noises made by birds, such as the pecking of woodpeckers can be heard during much of the year.
The diversity of tree species at Mt. Narawazu is considerable and includes conifers such as Japanese red pine and cedar, and deciduous conifer, larch. Broadleaf trees include oak, elm, Japanese horse chestnut, maple, magnolia, azalea, and mountain cherry. As far as I know, there is no beech. Notable trees in the forest have signage providing information on species and usage. We learn, for example, that the leaves of Kashiwa (Japanese emperor oak) are used to wrap Kashiwamochi, a kind of rice cake eaten on Children's Day because oak leaves symbolize family prosperity in Japan.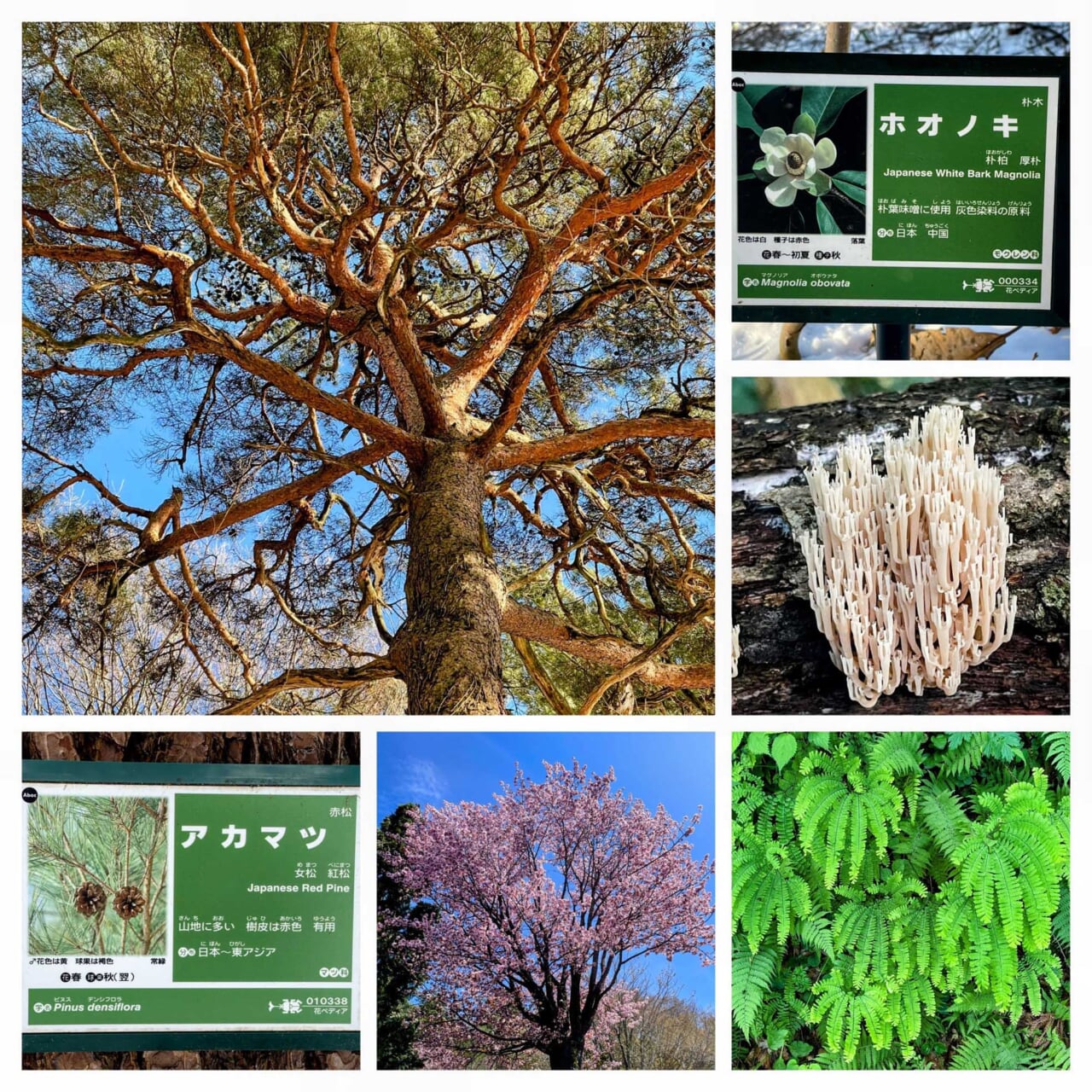 At the foot of the mountain is a pond that provides a habitat for amphibians such as frogs and in early June the most extraordinary cacophony of rhythmical croaks and calls resound around this area.
During the months of July and August the leaves turn dark green and colorful wildflowers adorn the trails. The tree canopy and foliage is at its most vibrant at this time of year. Among the many interesting flora that can be found along the trails is the ghostly non-photosynthesizing Ginryoso (Silver dragon plant), Matatabi (Silver vine or Cat powder), Tsuchiakebi (a species of orchid), and Kusagi (Peanut butter tree or Harlequin glorybower), the leaves of which produce a peanut odour when crushed.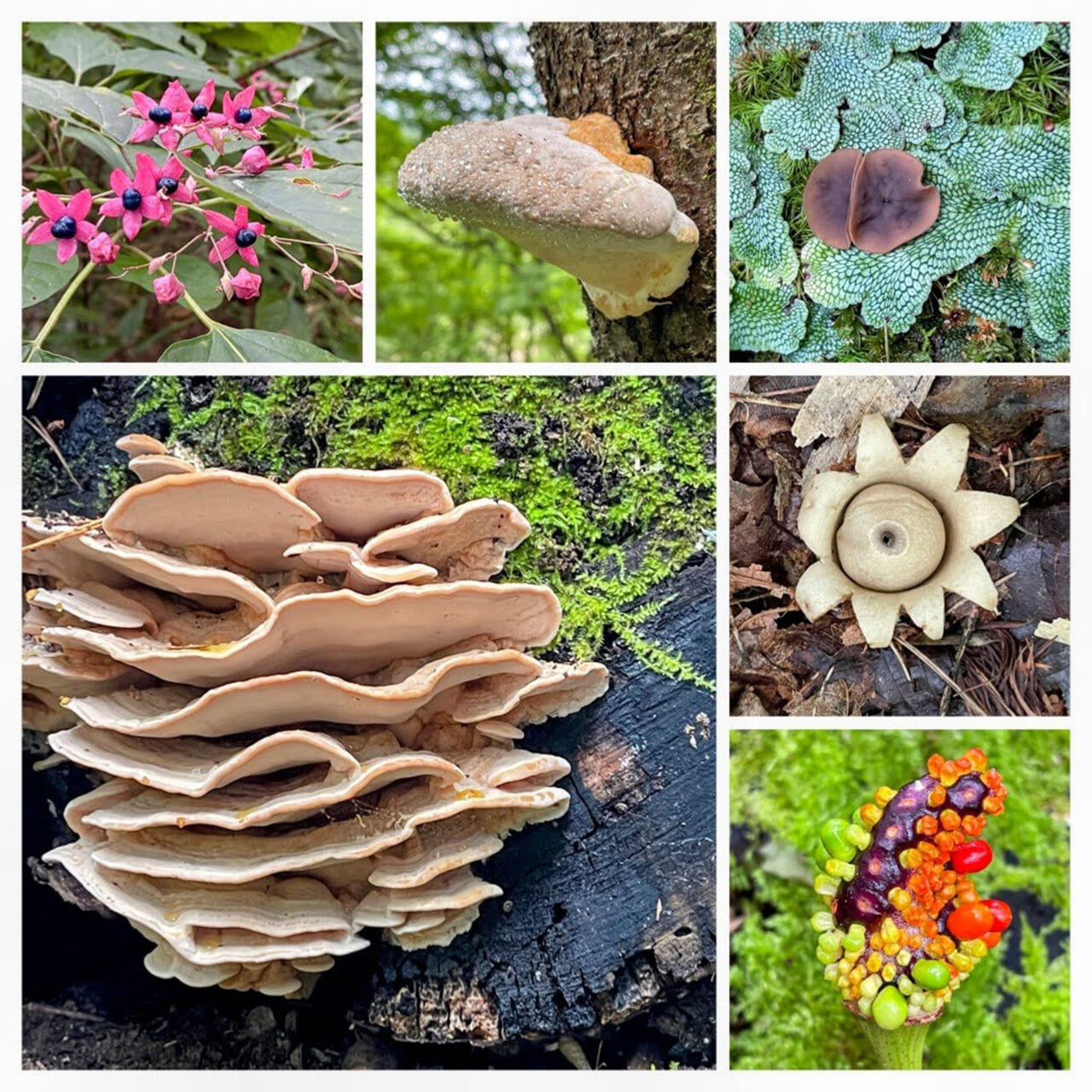 At the foot of the mountain, near the lower parking area is a grove of chestnut trees where chestnuts can be freely gathered from the middle of September to the middle of October.
The leaves of mountain maples turn vivid red and yellow in late October and November and can be admired in the specially created maple garden near the summit as well as in the natural setting of the forest. The wide variety of trees at Mt. Narawazu provide excellent habitats for fungi and it is during autumn that this much-underappreciated kingdom bursts into fruition revealing its incredible array of colours, sizes and forms.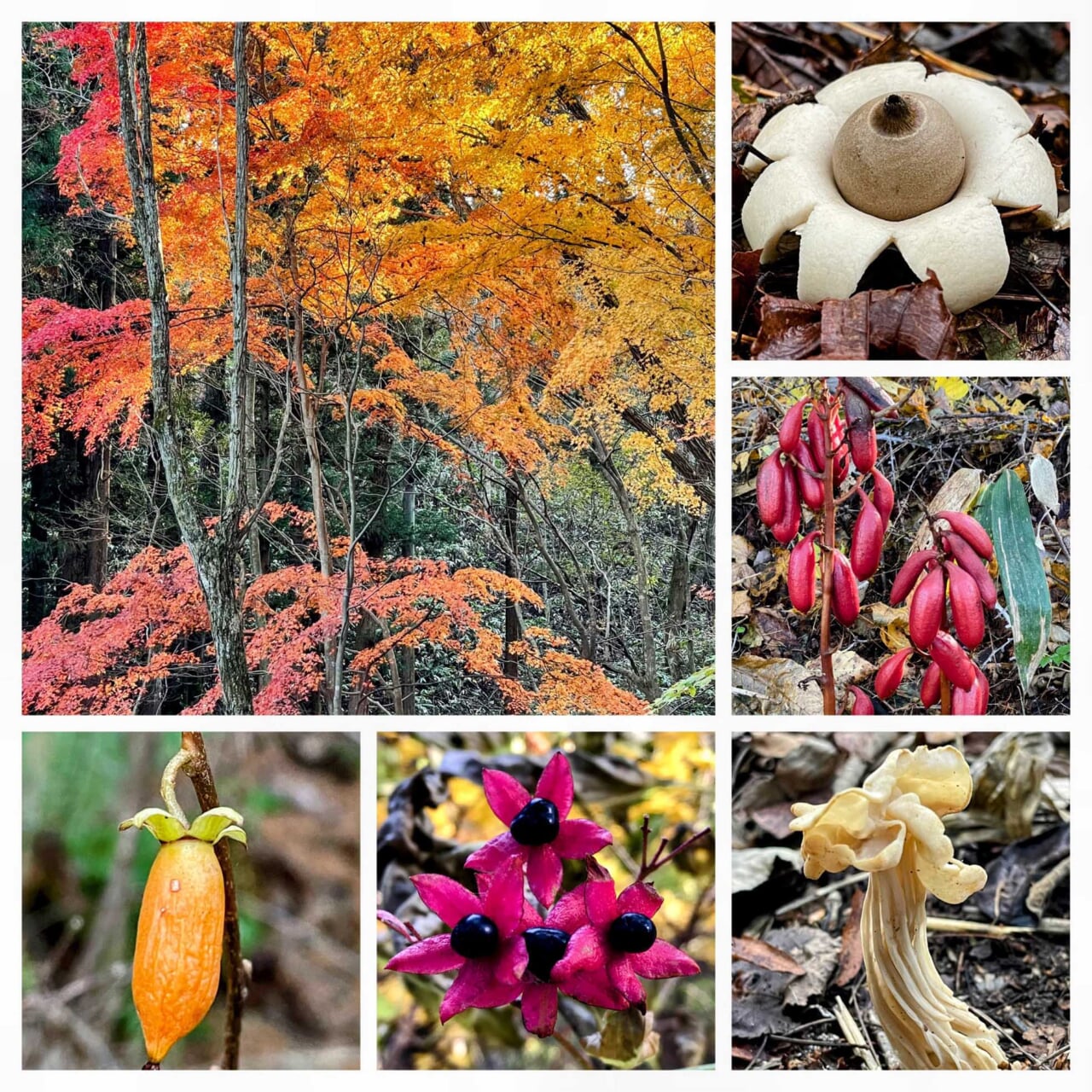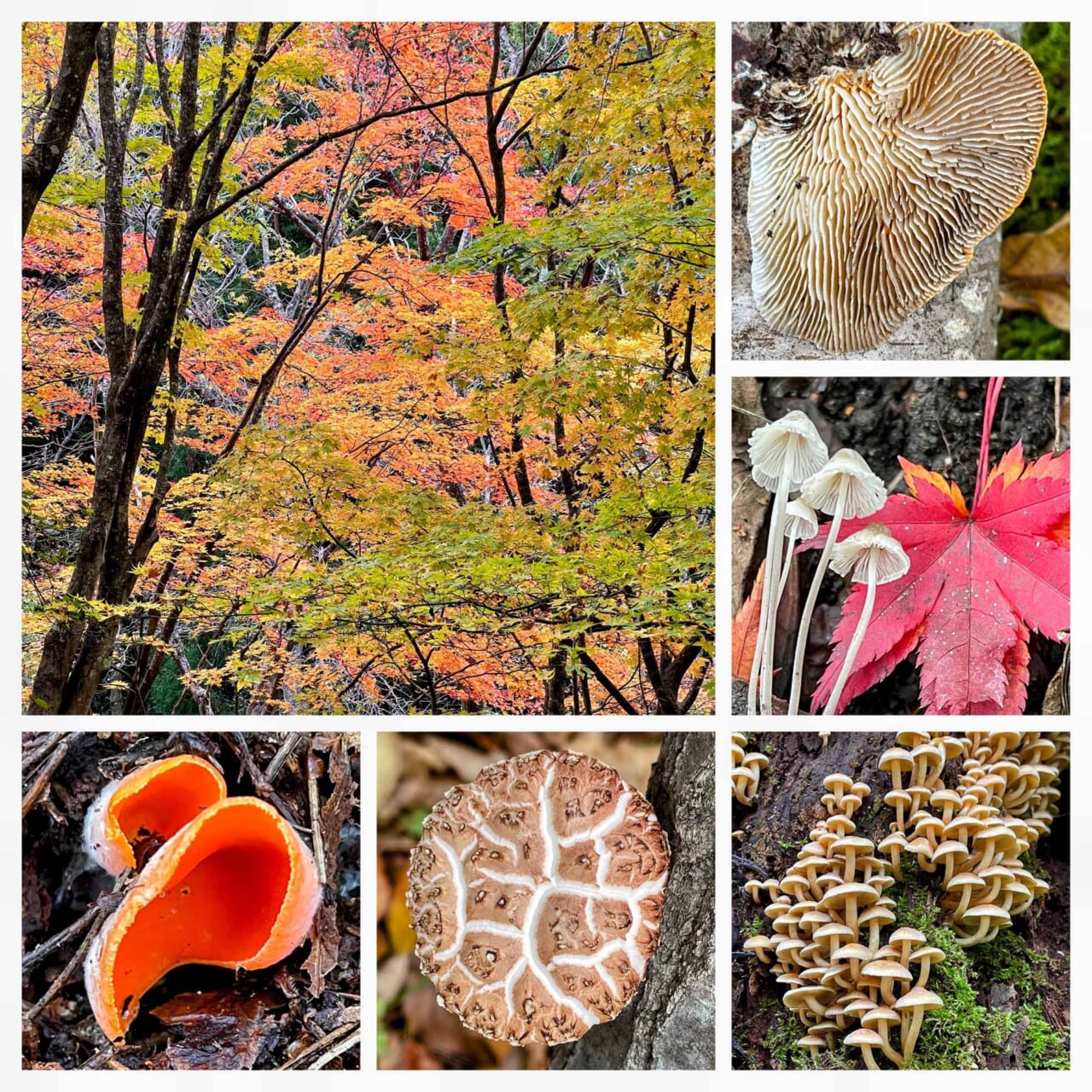 The first snow falls in December and by JanuaryorFebruarythe woodland floor is covered with a deep blanket of snow. On winter days when the air is perfectly still the forest can be absolutely silent. On occasion the distinctive calls of overwintering Ohakucho (Whooper swans) can be heard approaching from the distance as they return from their breeding grounds in Siberia.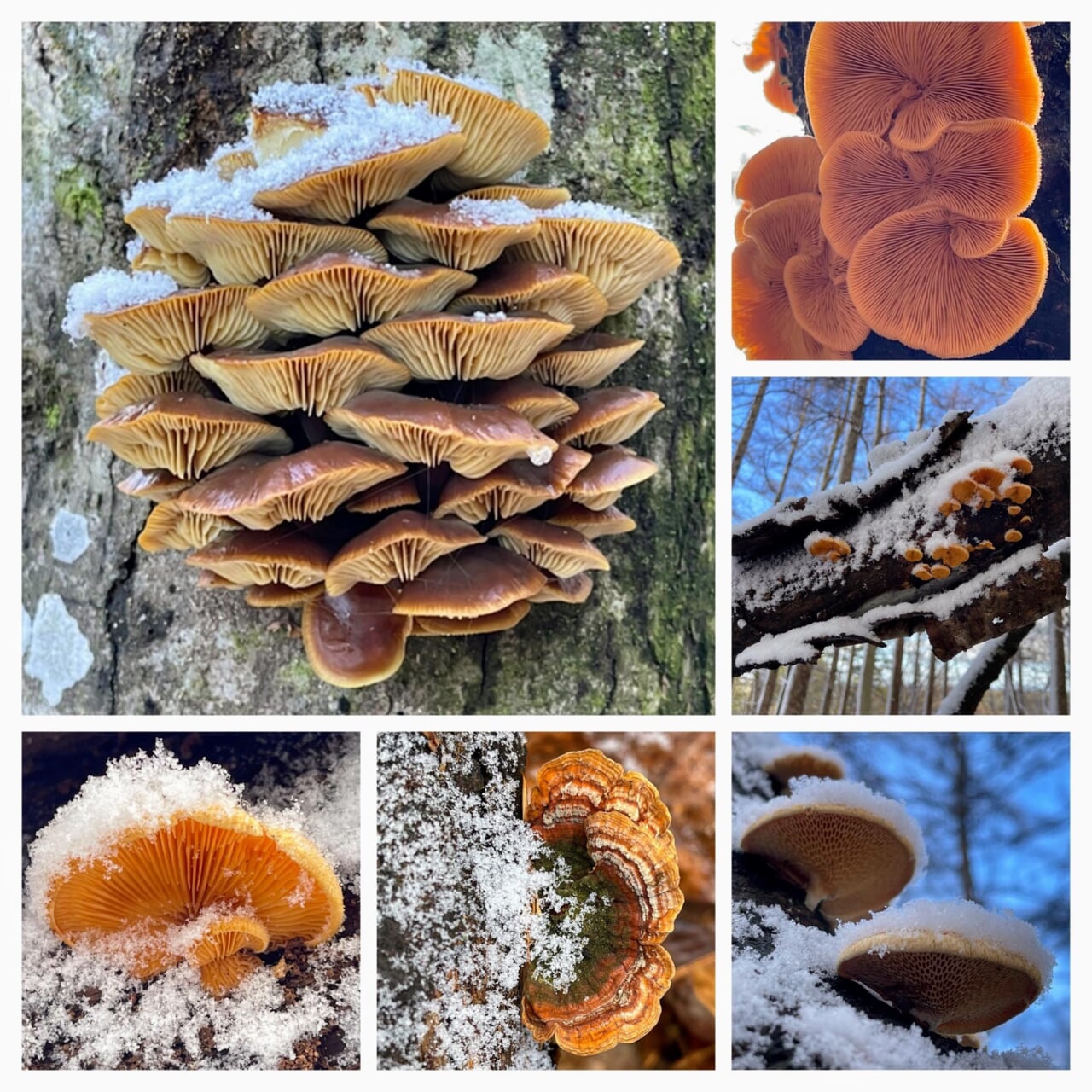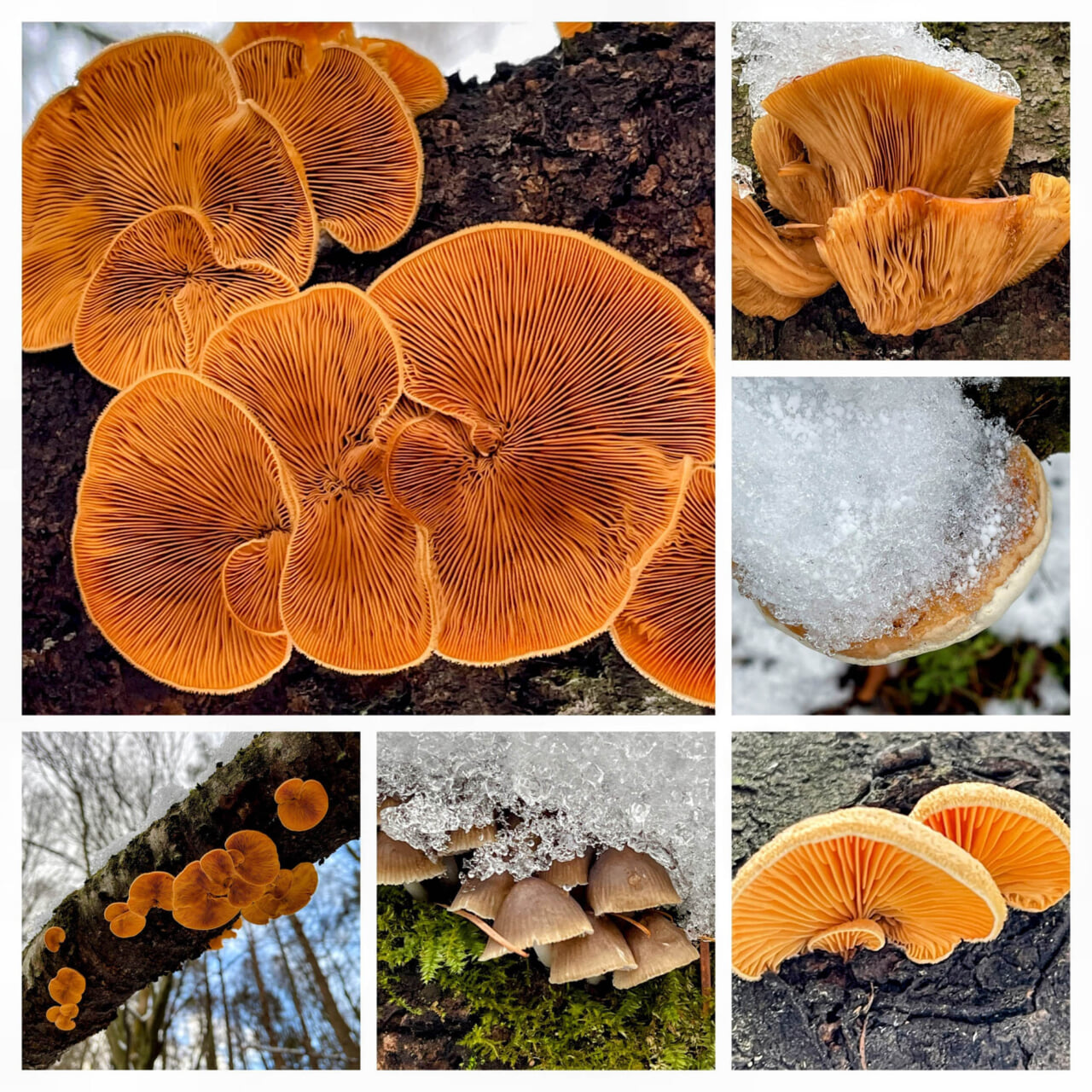 Japanese wildlife is largely nocturnal and extremely elusive making encounters on the trail a rare event. Numerous animals do however inhabit the forest and those that do not hibernate during the winter months make their presence known through the tracks they leave along the snowy trails. Nousagi (Japanese hare) are particularly common and widespread. Other animals inhabiting the woods include Nihonrisu (Japanese squirrel), Itachi (Japanese weasel), Yamane (Japanese dormouse), and Tanuki (Japanese raccoon dog).
Signs at the entrance to the trails warn of the danger of Tsukinowaguma (Asiatic black bear) and recommend that walkers carry a bear bell and bear repellent spray. Although bears have very occasionally been sighted I am yet to meet one on the trail. Other potential dangers are falling trees and branches, as well as venomous snakes, hornets and ticks. However, in my opinion, the biggest hazard is from mosquitoes and horse flies, especially during the summer months. Those who are susceptible to attack should take precaution by dressing appropriately (long-sleeves and light-colored clothing) and using lots of insect repellent.
Citizens' Forest Mt. Narawazu is open 8am-5pm every day, from April to November. Facilities include a staffed General Information Center with nature exhibits, an Experience Center, environmentally friendly restroom facilities (composting bio-toilets), and an Observation Tower affording panoramic views of the surrounding area. Mt. Hakkoda and Shimokita Peninsula can be seen on clear days. There is also a campsite with a BBQ and kitchen area.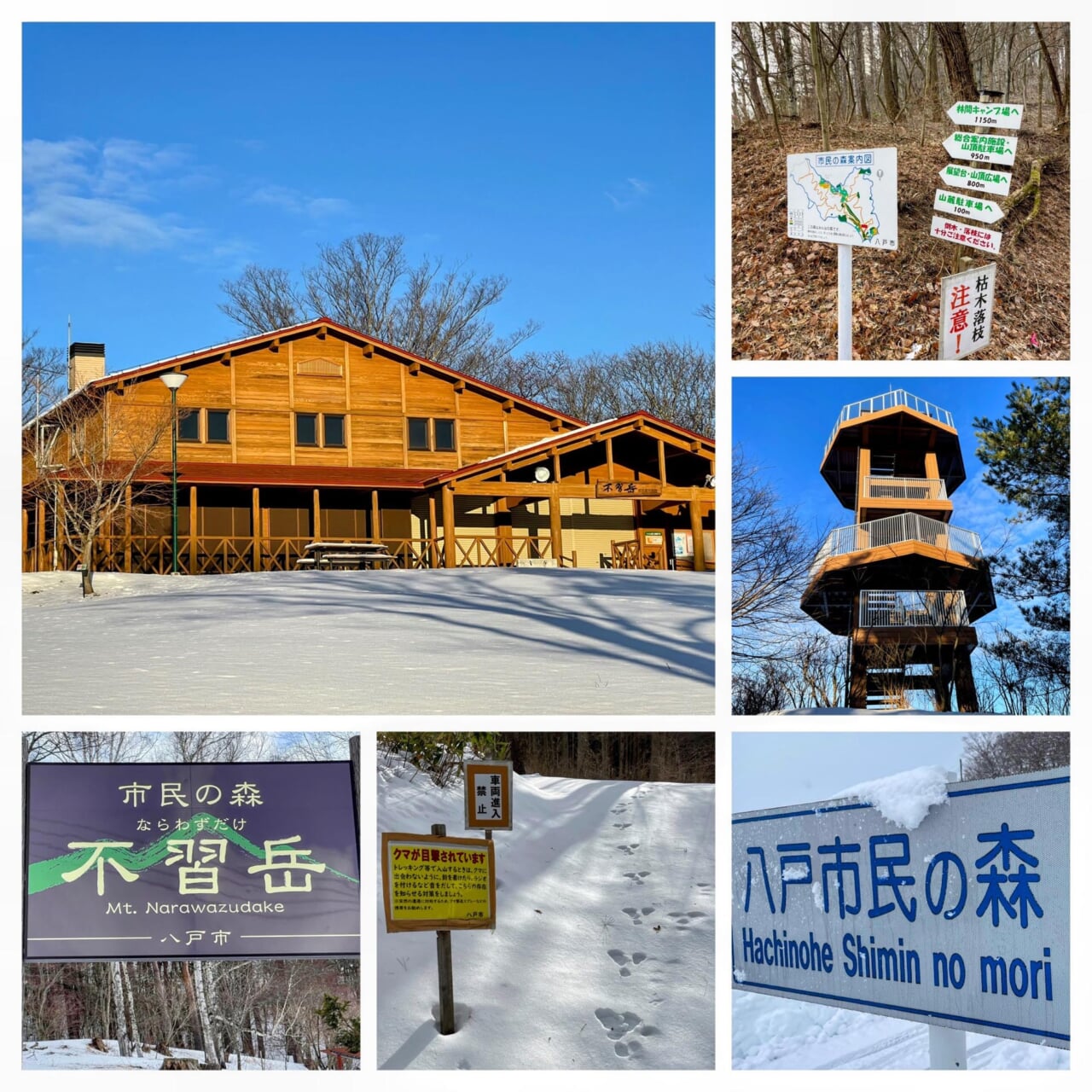 I recommend parking at the lower car park, and setting off on the Kamoshika trail, which begins with a gentle ascent of the woodland path through mainly broadleaf deciduous trees. It may take a while to get into your stride but after several ups and downs you will quickly warm up and get into your rhythm and start to enjoy your walk.
A visit to Mt. Narawazu is always more than just a walk. It is a chance to practice shinrin-yoku (forest bathing) – simply being in nature, connecting with it through our sense of sight, hearing, taste, smell and touch. There is now a wealth of evidence proving that shinrin-yoku can improve our well-being. Slow down, forget about the time and notice what you can hear and see – the sounds of the forest, the scent of the trees, the sunlight streaming through the leaves, the clean, fresh air. Why not spend some time getting back in touch with Mother Nature at Citizens' Forest Mt. Narawazu?
Matthew Thomas is from Liverpool in the United Kingdom. He came to Hachinohe on the JET Program in July 1991 and has spent more than half his life living here.
2023年2月掲載